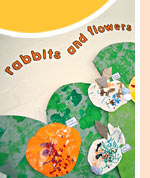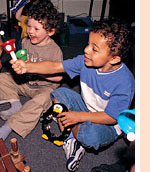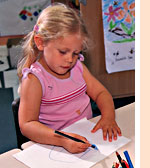 What to expect when you first visit the pre-school room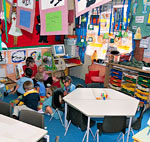 The environment
• Colourful, attractive and stimulating.
• Walls are decorated with colourful displays, including examples of the children's work connected with the current topic. Interest tables, or nature tables, are available at child height, with properly labelled objects for children to handle and explore.
The staff
•
Between the ages of 3 to 5 the ratio of staff to children is one to eight. Asquith Pre-school staff are experienced and trained to deliver the Foundation Stage Areas of Learning. Some are qualified teachers and others have undertaken an ongoing programme of professional development through the Early Years Development Childcare Partnership (EYDCP).
All Asquith Nursery Nurses are qualified to NNEB, BTEC or NVQ3 standard and have experience of working with children aged up to five years.
The routine
• Asquith Nurseries's Early Years Curriculum for under-fives includes every activity that takes place in pre-school.
• From the moment children arrive, there will be a real choice of activities set out with materials that vary throughout the year.
• All our pre-school rooms offer a wide range of resources set out in an attractive and varied way.
They will always include: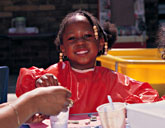 • Sand and water
Book corner
Role Play area
Writing table
Maths area
Outdoor play
Art and Craft section
Construction area
Small World toys
Science area
Music
Preparing your child for infant school
Together, we will work to fully prepare your child for the challenges of infant school.
We provide a safe, happy, play-based environment in which your child can learn to socialise and gain independence outside the family.
• Our planning and record keeping refers to the Foundation Stage curriculum, which dovetails in to the National Curriculum at Key Stage 1 in Primary School.
• By close observation and continual assessment, we can identify any special problems a child has, so these can be addressed before they start school.
• We prepare children for the routines of a school day.
• We encourage children to become independent, and to develop their social skills by communicating and sharing with others.
• Our nurseries maintain close relationships with local schools, and can provide information for parents about schools in your area.