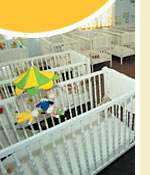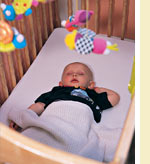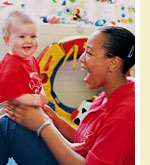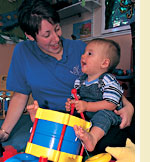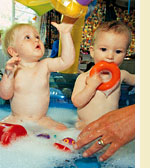 What to expect when you first visit the baby room
Dropping off and picking up your baby for the first time
Moving up a room
What to expect when you first visit the baby room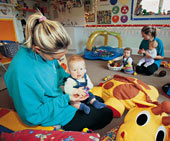 The Environment
• Homely with comfy chairs and cushions.
• Brightly decorated with lots of colourful pictures on the wall and mobiles hanging from the ceiling.
• There is a separate room or area for the babies to sleep in.
• Each baby will have his or her own cot or where this is not possible, their own clean bedding.
The staff
• Staff will be holding some of the babies and talking to others.
• The staff to child ratio is one to three in the baby room.
• The staff in the baby room genuinely enjoy their work and will show a real interest in every baby as an individual.
The Routine
• You will be asked to remove your shoes to keep the floor clean and hygienic.
• There is less organised play in the babies' room compared with other rooms in the nursery, as the babies' own routine is followed.
ropping off and picking up your baby for the first time
Settling in
• To help your child feel less apprehensive about being left in the nursery, your Asquith Nursery arranges a 'settling-in period' with you, a week or two before your child's first proper day. This could be for a couple of hours, half a day, or a few short visits over a week, depending on the child. This experience prepares you for the first occasion you leave your child at the nursery, ensuring a less fraught time for you both!
On arrival
• When you drop off your child the nursery team will be ready to give your baby a cuddle to ensure that they are feeling secure and safe on your departure.
Reassurance
• You will be invited to call us during the day for an update about how your baby has settled in.
Going home
• When you collect your baby you will be given a daily sheet which tells you:
• how much your child has eaten and drunk,
what activities they have been doing and have enjoyed,
how many nappies they have used and their condition.
• The staff will be on hand to help you with your baby's coat and other belongings.
Moving up a room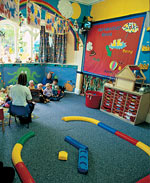 When does this happen?
• Babies move up to the toddler room when they are between twelve and eighteen months old, however, this very much depends on your child's individual needs and stage of development. If for instance they are very mobile they may move up more quickly. We only move children when they are ready. If change is managed as part of a natural progression it will be less unsettling.
Before moving up
• your child will have visits to the toddler room for an hour or two to familiarise him or her with the new surroundings
• you will also be invited to meet the staff and see the room where your child will be spending their time.
Reassurance
• You can call us during the day to check on your child's progress for your own reassurance.